Breweries in Vista, CA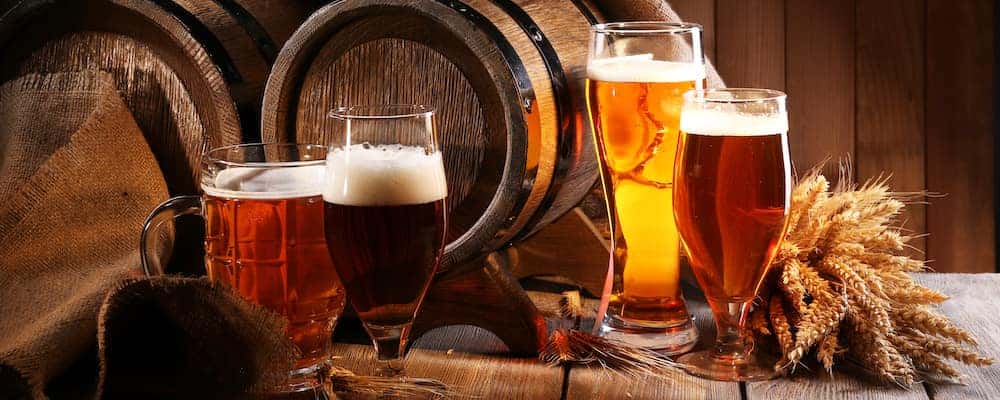 For craft beer lovers in the San Marcos and Vista areas, Vista, CA is a veritable mecca, with dozens of breweries, brewpubs, and taprooms to choose from—you could build an entire weekend getaway around beer-tasting and still not get to every good brewery there. That being said, take a look at some of our favorite recommendations for breweries in Vista, CA as a starting point, and contact us if you have any questions!
Belching Beaver Pub 980
The Belching Beaver offers "Dam Good Times" and prides itself on creating craft beers in just about every style, so die-hard IPA lovers, brooding imperial stout sippers, and everyone in between can find brews they like.
Prohibition Brewing
Come to Prohibition Brewing and take advantage of house-made beers on tap as well as selections from other local breweries. With outdoor seating and plenty of space for large groups as well as a full menu of food, this place has everything you need.
Booze Brothers Brewing
At Booze Brothers (which was actually started by brothers Dave and Donny Firth), you can try unique seasonal brews like Gin Gose and Peachy Monkey in their tasting room, and come for events like live music, art shows, and a rotating schedule of local food vendors.
Iron Fist Brewing
In true microbrewery fashion, the original Iron Fist Brewing tap room is nestled in a random industrial Park in Vista, open Wednesday through Sunday. This chill tap room also has live music and food truck fare alongside fun selections like Nelson the Impaler extra pale ale and gentler offerings like Summer City American lager.
Bear Roots Brewing Company
At the Bear Roots tasting room, you can enjoy delicious beers from a Chocolate Peanut Butter Stout to a pumpkin ale to a blood orange IPA. This brewery was also created to be a home base for home brewers–so if you want to start making your own beer, pick up one of their beer kits, or talk brewing with other locals over a pint and a pizza.
Explore Vista with Mazda of Escondido
When you venture out on your next Vista or Carlsbad adventure, be sure to drink responsibly and arrange a ride home with a friend, taxi, Uber, or Lyft if needed! Feel free to contact us for more local recommendations, like best restaurants in San Marcos, and rely on Mazda of Escondido for all your automotive needs!
Learn More at Mazda of Escondido
Los conductores de automóviles en San Marcos que aman el Mazda3 ya tienen dos excelentes opciones: sedán o puerta trasera (hatchback). Si elige la última opción, tendrá tres configuraciones de hatchback Mazda3 para elegir. Descubra todas sus opciones antes de ponerse al volante con Mazda of Escondido. Encuentre su Mazda3 Contáctenos MAZDA3 HATCHBACK – DESDE $ 23,700 MSRP*…

San Marcos drivers who love the Mazda3 already have two great choices: sedan or hatchback. If you choose the latter option, you'll have three Mazda3 Hatchback configurations to choose from. Take a look at all your options before you get behind the wheel with Mazda of Escondido. Find Your New Mazda3Contact Us Mazda3 Hatchback – Starting at $23,700 MSRP*…

The 2020 Mazda6 MSRP ranges from $24,100* to $35,400*, depending on the trim level that you select for your San Marcos adventures. Of course, there's a significant amount of difference between the high-end Mazda6 Signature and the baseline Mazda6 Sport configurations. We've broken down everything you need to know about each trim level to make the…